Q: Why am I being prompted to connect my Instagram through a Facebook flow?
A: To provide the proper account permissions, Instagram has created a new authentication flow specifically for business accounts.
The new flow is a Facebook experience, and includes new screens that allow you to grant access to the Instagram pages associated with your connected Facebook account.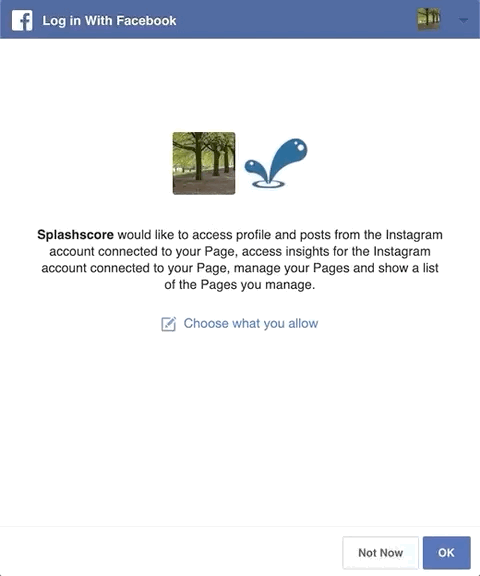 Once you've enabled your Facebook pages, you will be able to control which Instagram accounts you'd like to manage and enable. These Instagram accounts must be associated with the Facebook pages you enabled in the first step.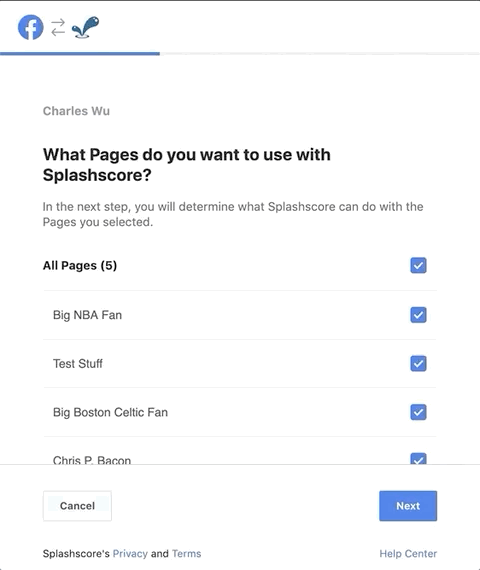 Q: What if I don't have an Instagram business account?
A: If you don't have an Instagram business account, you can still log in with your personal account via Instagram's own authorization flow.
If you'd like to switch to a business account, here are instructions on how to do so. It only takes two minutes, and will prepare you for Instagram's planned Platform API deprecation at the end of 2019.
Q: Why can't I see or connect the Instagram page I'd like to use?
A: In order to connect an Instagram business account, you need to connect the associated Facebook page that manages the Instagram business account. Below are a few tips to review to ensure your accounts are properly connected.
Confirm your Instagram is a business account. Instructions on how to turn your account into an Instagram Business Account can be found here.
Confirm your Instagram is connected to a Facebook page. To connect an existing Instagram business account to an existing Facebook page, or to check what Facebook page you are currently connected to:
Log in to your Instagram business account.
Go to your Instagram profile and tap the Menu icon.
Click the Settings icon.
Click Account > Linked Accounts, then select Facebook.
If you haven't already, enter your Facebook login information.
By default, your Instagram account will link to your personal Facebook profile. To link to a page instead, click Share To and choose a page that you manage.
To associate your Instagram business account to a different Facebook page:
Log in to your Instagram business account.
Go to your Instagram profile page.
Click edit profile.
Click the Page section under business information.
Select which page associated with your connected Facebook account you'd like to connect.
Make sure page permissions are enabled.
Q: I want to connect my personal account but a business account that I manage is getting connected.
A: Use these steps to connect a personal account instead of one of your business accounts:
Log out of Facebook in your web browser and make sure you are logged into the Instagram account you want to connect.

Go to the campaign application and log in using whichever method you used to create your account (Facebook or email).

On the required accounts page, click Add New or Connect to link Instagram.

A Facebook window will pop up, X out of the window.

A message will appear saying "We couldn't find any Instagram business accounts....To connect a non-business account, click here instead."

Clicking to connect a non-business account will bring up the Instagram authorization window.

Once you click "Authorize," your non-business account will be connected.
Q: Why is the wrong account being connected?
A: Oftentimes, this is because you are logged in to a different Facebook account in your browser. On a desktop, log out of your Instagram and Facebook pages. From there, log into the business Instagram and Facebook you're trying to connect, and reconnect your social accounts in the application.
Q: Can I remove a page that I've previously connected?
A: Yes, you can remove pages that have been linked previously via the Facebook login flow. When providing pages access, simply uncheck the boxes for the pages that you'd like to disconnect.
Q: What permissions will I be granting as part of this?
A: Connecting your account with these permissions will allow the brand you're collaborating with to automatically pull in the data associated with your campaign content, such as impressions, likes, and comments.
It will also share some insights related to your audience base, to help brands anticipate the expected reach and impact of your content.
Q: What if I don't have access to the Facebook page my Instagram account was connected to?
A: If you'd like to change the Facebook page your Instagram account is connected to, start by switching your Instagram business account back to a personal one. When you convert your Instagram account back to a business account, you can then either create or connect it to a new Facebook page.
Q: What if I don't have a Facebook account?